LK-1900BN-HS (for heavy-weight)
LK-1900BN-WS (for extra heavy-weight)
Computer-controlled, High-speed Bartacking Sewing System
The machine achieves a maximum sewing speed of 3,200sti/min (Normal hook type), enhancing the startup speed at the beginning and ending of sewing, as well as the speed of thread trimming, thus reducing the total cycle time. It therefore achieves upgraded productivity.
Model Name
LK-1900BN-HS
LK-1900BN-WS
Sewing area
30mm (L)×40mm (W)
Max. sewing speed
3200sti/min
2,700sti/min
Stitch length
0.1mm~10mm (0.1mm step)
Work clamp foot
14mm (17mm when the reverse-rotation needle-up function)
Needle
DP×17 (#21)
Number of
standard patterns
51 patterns
Number of data
that can be input
200 patterns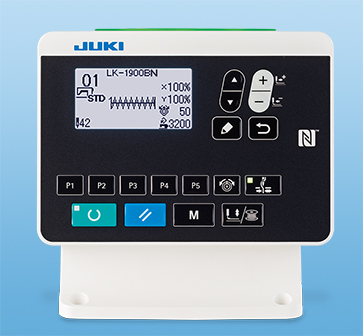 Data on sewing machine adjustments made according to the product to be sewn can be transferred to a commercially-available Android tablet in contactless mode. This enables quick check for uniform settings as well as confirmation of conditions of sewing machines in a sewing line, thereby facilitating setup changes. The operation panel is also provided as standard with a USB port. Data management and software update can be carried out with ease using a USB thumb drive.